Software Maintenance & Support
Great business idea alone never sufficient. But if fine-tuned and refined for
execution compatibility always enhances its outlook.
Maintenance & Support Offerings
Application Maintenance, Sustenance, and Support Services for all sizes of the websites, mobile applications for the variety of domains.

Application maintenance
Application maintenance services take portfolio-based tactic to technology, information planning, public, and services by considering your business, methods and applications

Performance monitoring
Performance monitoring software ensures the high accessibility and higher performance of applications by addressing issues, overcoming bottlenecks and considering customers' feedback.

Bug and Task Tracking
We help you align, gauge and calibrate your website strategy for the choice of modules and technology, scalability coupled with lean & cost effective approach.
Dedicated to meet the support & maintenance need

Perfective and corrective maintenance
Stumbled upon a great idea? We as a startup product development company helps you define and devise a plan to get MVP out the market in 6-12 weeks.

Adaptive maintenance
The team implements the changes that helps the software/website/mobile app adapt to the changes in the environment like hardware or operating system. For instance, implementing changes in an iPhone app to make it function well for the new iOS version.

Scheduled maintenance
To upgrade and make your software work in line with the latest, cutting-edge technologies, new features and functions are implemented in the UI/UX of the application. Our maintenance services help clients stay ahead of their competitors.
We Know What Works, And What Doesn't.
Prevention is better than cure. Constant service is the best approach to pull in and hold your app users. Unexpected downtime or application failure ought to put off the app users or result in snapping the business primary concerns. Hence, an active maintenance contract in place for your app can help you stay ahead of the competitors and avoid losing existing app users. In the course of app maintenance, we also assign a developer or a team of developers, to check and resolve the issues if, in case, something goes wrong with your app!
We have a dedicated arm for mobility solutions, acknowledged by industry analysts as fastest growing focused iPhone/Android application development and maintenance service company that provides complete mobility lifecycle consultation.
Client Testimonials
See what our clients says about their experience working with us.

oApps Infotech finished the project successfully. The client was impressed with their design and development skills. Accessible and helpful, they closely kept in touch to ensure seamless workflow. They also offered cost-effective services.


Simple and accessible, the website made it easy for in-house staff to make updates. oApps Infotech listened attentively and communicated clearly about their progress. They were always efficient and knowledgeable.

Aaron Taddiken
Founder, Taddiken Tree Company

oApps Infotech delivered a high-quality and well-designed product within a reasonable timeline. Their transparent approach supplemented their professional management style. oApps Infotech took scope changes in stride.


Despite of different time zones the working collaboration with oApps is easy, straight forward and open. oApps is the developing partner in our multi headed and multi cultural scrum team. We are all very pleased to use the technical support and the related experience.

We Are Hungry To Deliver World-class Digital Products And Make Clients Happy. Are You Hungry For Your Success? If Yes,
Case Study
Deep skills, robust process and flexibility to develop paramount solutions reflecting in our recently developed projects!
Exelint International (Exel) manufacturers single use medical products, disposable delivery sharps, drug delivery and blood collection products for distributors.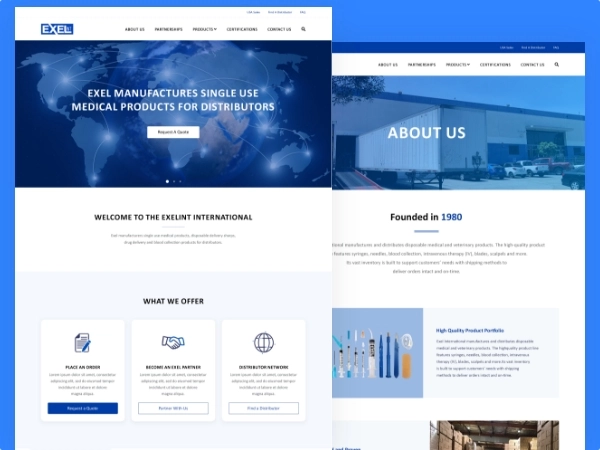 Let's Do Somthing Better Together!
We scale quickly and manage all stages of the software lifecycle, from UX to delivery, amplifying your team's custom software development capabilities for as long or little as you need.
Our Trusted Clients
Our trusted clients, who is very happy working with us. and oapps infotech team is also happy to work with them.
[wdcl_logo_carousel slide_count="6″ arrow_icon_size="20px" arrow_color="#07182C" arrow_bg="RGBA(0,0,0,0)" logo_hover="zoom_out" slide_count_tablet="3″ slide_count_phone="2″ slide_count_last_edited="on|phone" _builder_version="4.16″ _module_preset="default" global_colors_info="{}"][wdcl_logo_carousel_child logo="https://www.oappsit.com/wp-content/uploads/2021/10/Client-Logo-1.jpg" _builder_version="4.16″ _module_preset="default" global_colors_info="{}"][/wdcl_logo_carousel_child][wdcl_logo_carousel_child logo="https://www.oappsit.com/wp-content/uploads/2021/10/Client-Logo-2.jpg" _builder_version="4.16″ _module_preset="default" global_colors_info="{}"][/wdcl_logo_carousel_child][wdcl_logo_carousel_child logo="https://www.oappsit.com/wp-content/uploads/2021/10/Client-Logo-3.jpg" _builder_version="4.16″ _module_preset="default" global_colors_info="{}"][/wdcl_logo_carousel_child][wdcl_logo_carousel_child logo="https://www.oappsit.com/wp-content/uploads/2021/10/Client-Logo-4.jpg" _builder_version="4.16″ _module_preset="default" global_colors_info="{}"][/wdcl_logo_carousel_child][wdcl_logo_carousel_child logo="https://www.oappsit.com/wp-content/uploads/2021/10/Client-Logo-5.jpg" _builder_version="4.16″ _module_preset="default" global_colors_info="{}"][/wdcl_logo_carousel_child][wdcl_logo_carousel_child logo="https://www.oappsit.com/wp-content/uploads/2021/10/Client-Logo-6.jpg" _builder_version="4.16″ _module_preset="default" global_colors_info="{}"][/wdcl_logo_carousel_child][wdcl_logo_carousel_child logo="https://www.oappsit.com/wp-content/uploads/2021/10/Client-Logo-7.jpg" _builder_version="4.16″ _module_preset="default" global_colors_info="{}"][/wdcl_logo_carousel_child][wdcl_logo_carousel_child logo="https://www.oappsit.com/wp-content/uploads/2021/10/Client-Logo-8.jpg" _builder_version="4.16″ _module_preset="default" global_colors_info="{}"][/wdcl_logo_carousel_child][wdcl_logo_carousel_child logo="https://www.oappsit.com/wp-content/uploads/2021/10/Client-Logo-9.jpg" _builder_version="4.16″ _module_preset="default" global_colors_info="{}"][/wdcl_logo_carousel_child][wdcl_logo_carousel_child logo="https://www.oappsit.com/wp-content/uploads/2021/10/Client-Logo-10.jpg" _builder_version="4.16″ _module_preset="default" global_colors_info="{}"][/wdcl_logo_carousel_child][wdcl_logo_carousel_child logo="https://www.oappsit.com/wp-content/uploads/2021/10/Client-Logo-11.jpg" _builder_version="4.16″ _module_preset="default" global_colors_info="{}"][/wdcl_logo_carousel_child][/wdcl_logo_carousel]