Strategic Business Consultation
Great business idea alone never sufficient. But if fine-tuned and refined for execution compatibility always enhances its outlook.
Strategic Consultation
Enabling startup to help choose best tech platform, improved execution strategy
to cut the cost & time to reach the market.

Architecture consultation
We provide end-to-end architecture of any business solution, database, work-flow, documentation to enable the efficient execution by your developers.

Competitive analysis
Competitive analysis to understand the technology used, the solution approach, the functionality analysis so that enhance your digital product.

Code analysis
Code analysis helps you gauge the potential threat for security breach, performance leakage, user experience, page speed improvement etc.

Technology Migration
Enabling the startups to re-engineer and optimize digital products by assessing the existing application, pain areas, and future business goals.

Startup/Product Advisory
Offer value-added technology & business consultation to the startups to identify and mitigate the potential risks and increase the chances of success.

DevOps
DevOps is a software engineering culture and practice that aims at unifying software development (Dev) and software operation (Ops).
Strategic Consultation Stages

Seed Stage
Stumbled upon a great idea? We as a startup product development company helps you define and devise a plan to get MVP out the market in 6-12 weeks.
Idea validation & refinement
Brainstorming workshops
Product discovery/blueprint
MVP design & development service for startup
Go to market strategy

Expansion Stage
With the experience of a full range of product life-cycle services to businesses in emerging technology segments. The focus is not just MVP but finding a way to achieve scalability and framing everything in the context for the long term.
Performance optimization
Analytics & improved engagement
Usability assessment & improvement
Architectural improvement for the scalability
DevOps support
Technology audit
Security improvement
Scale the Growth Stage
Growth hacking through customer satisfactions, retention, conversion & Innovation by data driven implementation.
Team ramp up
Re-engineering
Personalization & Intelligence
Improved UX through Micro-interactions
DevOps
Test Automation
Compliances
Big Data & Machine Learning
Empowering Startups At Every Stage
Being bootstrapped company our self, we love Startups for their passion and drive towards building innovative products to solve real-world problems.
As a startup outsourcing company, we have a long history of working and catering startup IT services as tech partners with several tech startups transition from an idea through funding to a successful product. With our unique agile delivery approach, tech talent and outsourced product/software development for startups experience, we have launched more than 100 products for startups and have done software development for start companies!
While we focus on your development needs, we'll help you develop a mobile strategy that will take your business idea from conceptualization to a well-loved app on Apple's App Store and Google Play. Among all the other mobile application development companies, what sets us apart is the end-to-end solution to create a unique mobile experience across multiple platforms, devices and OS versions, with continued support and maintenance to respond to your short-term and long-term needs.
Client Testimonials
See what our clients says about their experience working with us.

oApps Infotech finished the project successfully. The client was impressed with their design and development skills. Accessible and helpful, they closely kept in touch to ensure seamless workflow. They also offered cost-effective services.


Simple and accessible, the website made it easy for in-house staff to make updates. oApps Infotech listened attentively and communicated clearly about their progress. They were always efficient and knowledgeable.

Aaron Taddiken
Founder, Taddiken Tree Company

oApps Infotech delivered a high-quality and well-designed product within a reasonable timeline. Their transparent approach supplemented their professional management style. oApps Infotech took scope changes in stride.


Despite of different time zones the working collaboration with oApps is easy, straight forward and open. oApps is the developing partner in our multi headed and multi cultural scrum team. We are all very pleased to use the technical support and the related experience.

We Are Hungry To Deliver World-class Digital Products And Make Clients Happy. Are You Hungry For Your Success? If Yes,
Case Study
Deep skills, robust process and flexibility to develop paramount solutions reflecting in our recently developed projects!
Exelint International (Exel) manufacturers single use medical products, disposable delivery sharps, drug delivery and blood collection products for distributors.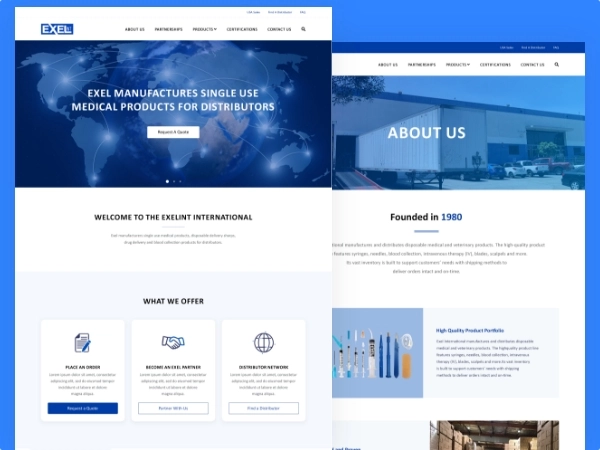 Let's Do Somthing Better Together!
We scale quickly and manage all stages of the software lifecycle, from UX to delivery, amplifying your team's custom software development capabilities for as long or little as you need.
Our Trusted Clients
Our trusted clients, who is very happy working with us. and oapps infotech team is also happy to work with them.
[wdcl_logo_carousel slide_count="6″ arrow_icon_size="20px" arrow_color="#07182C" arrow_bg="RGBA(0,0,0,0)" logo_hover="zoom_out" slide_count_tablet="3″ slide_count_phone="2″ slide_count_last_edited="on|phone" _builder_version="4.16″ _module_preset="default" global_colors_info="{}"][wdcl_logo_carousel_child logo="https://www.oappsit.com/wp-content/uploads/2021/10/Client-Logo-1.jpg" _builder_version="4.16″ _module_preset="default" global_colors_info="{}"][/wdcl_logo_carousel_child][wdcl_logo_carousel_child logo="https://www.oappsit.com/wp-content/uploads/2021/10/Client-Logo-2.jpg" _builder_version="4.16″ _module_preset="default" global_colors_info="{}"][/wdcl_logo_carousel_child][wdcl_logo_carousel_child logo="https://www.oappsit.com/wp-content/uploads/2021/10/Client-Logo-3.jpg" _builder_version="4.16″ _module_preset="default" global_colors_info="{}"][/wdcl_logo_carousel_child][wdcl_logo_carousel_child logo="https://www.oappsit.com/wp-content/uploads/2021/10/Client-Logo-4.jpg" _builder_version="4.16″ _module_preset="default" global_colors_info="{}"][/wdcl_logo_carousel_child][wdcl_logo_carousel_child logo="https://www.oappsit.com/wp-content/uploads/2021/10/Client-Logo-5.jpg" _builder_version="4.16″ _module_preset="default" global_colors_info="{}"][/wdcl_logo_carousel_child][wdcl_logo_carousel_child logo="https://www.oappsit.com/wp-content/uploads/2021/10/Client-Logo-6.jpg" _builder_version="4.16″ _module_preset="default" global_colors_info="{}"][/wdcl_logo_carousel_child][wdcl_logo_carousel_child logo="https://www.oappsit.com/wp-content/uploads/2021/10/Client-Logo-7.jpg" _builder_version="4.16″ _module_preset="default" global_colors_info="{}"][/wdcl_logo_carousel_child][wdcl_logo_carousel_child logo="https://www.oappsit.com/wp-content/uploads/2021/10/Client-Logo-8.jpg" _builder_version="4.16″ _module_preset="default" global_colors_info="{}"][/wdcl_logo_carousel_child][wdcl_logo_carousel_child logo="https://www.oappsit.com/wp-content/uploads/2021/10/Client-Logo-9.jpg" _builder_version="4.16″ _module_preset="default" global_colors_info="{}"][/wdcl_logo_carousel_child][wdcl_logo_carousel_child logo="https://www.oappsit.com/wp-content/uploads/2021/10/Client-Logo-10.jpg" _builder_version="4.16″ _module_preset="default" global_colors_info="{}"][/wdcl_logo_carousel_child][wdcl_logo_carousel_child logo="https://www.oappsit.com/wp-content/uploads/2021/10/Client-Logo-11.jpg" _builder_version="4.16″ _module_preset="default" global_colors_info="{}"][/wdcl_logo_carousel_child][/wdcl_logo_carousel]