Introduction
In today's digital age, having a captivating and functional website is essential for businesses and individuals alike. Building a website from scratch can be a daunting task, but with the help of HubSpot Theme TwentyOne, creating a stunning website becomes a breeze. In this comprehensive guide, we'll walk you through the process of setting up your website using HubSpot's powerful and user-friendly theme.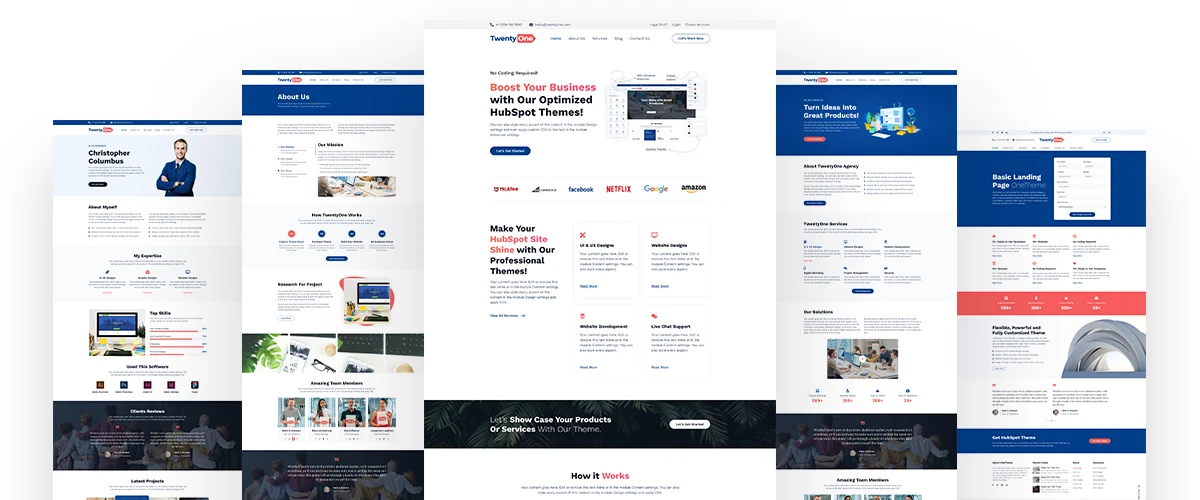 1. Introduction to HubSpot Theme TwentyOne
Before diving into the specifics, let's get acquainted with HubSpot and its themes. HubSpot is a leading inbound marketing and sales platform that offers a wide range of tools to help businesses grow online. One of its standout features is the collection of pre-designed themes, and Theme TwentyOne is a gem among them.
2. Understanding the Benefits of Using HubSpot Theme TwentyOne
Theme TwentyOne comes with an array of benefits that can significantly impact your website's success. Firstly, it is built with mobile responsiveness and optimized performance in mind, ensuring your website looks stunning on any device and loads quickly. Secondly, its SEO-friendly design and features can boost your website's visibility on search engines, helping you attract more organic traffic. Lastly, Theme TwentyOne allows for extensive customization, ensuring your website stands out and reflects your unique branding.
3. Getting Started with HubSpot Theme TwentyOne
To embark on your website-building journey, you'll need a HubSpot account. If you're new to HubSpot, signing up is simple and free. Once you're in, installing Theme TwentyOne is as easy as a few clicks, and you're all set to begin customizing your website.
4. Navigating the HubSpot Theme TwentyOne Interface
Upon installation, you'll be greeted with the theme dashboard, where you can access various settings and design options. The pre-built layout options make it simple to get started, and you can easily switch between them to find the one that best suits your vision.
5. Customizing Your Website's Design with Theme TwentyOne
Now comes the fun part – customizing your website's design. Theme TwentyOne offers an intuitive drag-and-drop editor that requires no coding skills. You can select your desired color scheme and typography, upload your logo and other branding elements, and even tweak the layout to match your preferences perfectly.
6. Creating Engaging Content with HubSpot Theme TwentyOne
Content is king, and Theme TwentyOne empowers you to create captivating content effortlessly. The theme's content modules allow you to seamlessly add various types of content, such as text, images, videos, and more. Additionally, organizing content with grids and sections ensures a visually appealing layout.
7. Enhancing User Experience with HubSpot Theme TwentyOne
User experience plays a pivotal role in keeping visitors engaged on your website. With Theme TwentyOne, you can optimize website navigation with well-designed menus and effective calls-to-action (CTAs). Additionally, incorporating interactive elements and animations will create a memorable and delightful user experience.
8. Implementing Effective Calls-to-Action (CTAs)
CTAs are essential for lead generation and conversions. Theme TwentyOne offers a range of options to design compelling CTAs that drive action and encourage visitors to take the desired steps on your website.
9. Integrating Forms and Lead Capture with HubSpot Theme TwentyOne
To convert visitors into leads, you'll want to capture their information through forms. With Theme TwentyOne, you can easily create and embed lead capture forms that seamlessly integrate with HubSpot's CRM, streamlining your lead management process.
10. Leveraging HubSpot Theme TwentyOne for E-commerce
If you're running an online store, Theme TwentyOne has got you covered. Setting up an e-commerce website with this theme is effortless. Showcase your products in a visually appealing manner and provide a seamless shopping experience for your customers.
11. Ensuring Website Security and Performance
Website security and performance are non-negotiable aspects of a successful website. HubSpot takes care of security measures, and with Theme TwentyOne's optimized performance, your website will load quickly and efficiently.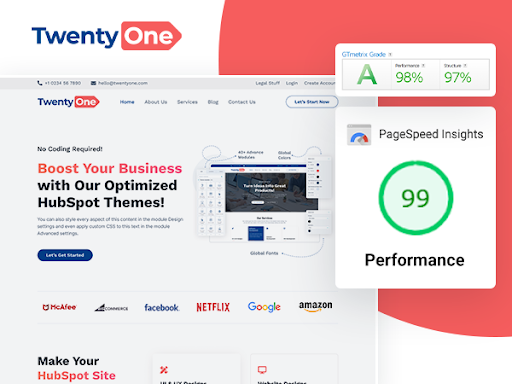 12. HubSpot Theme TwentyOne for Blogging and Content Marketing
A blog is an excellent way to connect with your audience and establish thought leadership. Theme TwentyOne allows you to create and manage a blog seamlessly. Implement content marketing strategies to boost your website's visibility and attract more readers.

13. Utilizing HubSpot's Marketing Automation with Theme TwentyOne
Marketing automation can save you time and effort while delivering personalized experiences to your audience. Discover how to leverage HubSpot's marketing automation features and integrate them with Theme TwentyOne to enhance your marketing efforts.
14. Measuring Success with HubSpot Analytics
To gauge the effectiveness of your website and marketing efforts, it's crucial to analyze data. HubSpot's analytics provide valuable insights, and with Theme TwentyOne, you can track website performance and make data-driven decisions.
15. Integrating Social Media with HubSpot Theme TwentyOne
Social media is a powerful tool for expanding your online presence. Learn how to integrate social media sharing buttons and display social media feeds on your website to encourage social engagement and sharing.

16. Implementing Advanced SEO Techniques with Theme TwentyOne
To rank higher in search engine results, it's vital to optimize your website for SEO. Explore advanced SEO techniques and how Theme TwentyOne's built-in features can help you improve your website's search engine rankings.
17. Implementing HubSpot Theme TwentyOne for Multilingual Websites
If your target audience speaks multiple languages, Theme TwentyOne makes it easy to create multilingual versions of your website. Localize content and provide a personalized experience for visitors from different regions.
18. Best Practices for HubSpot Theme TwentyOne Maintenance
Once your website is up and running, regular maintenance is essential to ensure everything runs smoothly. Follow best practices for updating the theme and backing up your website and data regularly.
19. Troubleshooting and Support for HubSpot Theme TwentyOne
Encounter an issue? Don't worry! We've got you covered with common troubleshooting tips and resources for seeking support from HubSpot's team.
20. Summary: Building a Stunning Website with HubSpot Theme TwentyOne
In conclusion, HubSpot Theme TwentyOne offers a powerful and user-friendly solution for creating a stunning website in a matter of minutes. From design customization to lead capture and beyond, this theme equips you with the tools you need to succeed online. Don't wait any longer; start building your dream website today!
FAQs: Frequently Asked Questions about HubSpot Theme TwentyOne
Q1. Is HubSpot Theme TwentyOne suitable for beginners?
A1. Absolutely! Theme TwentyOne is designed with user-friendliness in mind, making it an excellent choice for both beginners and experienced users.
Q2. Can I customize the layout and design of my website?
A2. Yes, Theme TwentyOne offers extensive customization options, allowing you to tailor your website's design to your preferences.
Q3. Is HubSpot Theme TwentyOne optimized for mobile devices?
A3. Yes, Theme TwentyOne is fully mobile responsive, ensuring your website looks great on all devices, from smartphones to tablets.
Q4. Can I integrate an online store into my website with Theme TwentyOne?
A4. Certainly! Theme TwentyOne supports e-commerce functionality, making it simple to set up and manage an online store.
Q5. How can I get support if I encounter any issues with the theme?
A5. If you need assistance, you can reach out to our support team via email at support@oappsit.com
If you need real-time support, you can also use our live chat feature available on our website during business hours.
Experience Excellence with Our HubSpot TwentyOne Theme
Enhance your online presence with our premium HubSpot TwentyOne theme for a visually stunning and high-performing website.